Creating a robust online presence is no longer a luxury—it's a necessity. As we navigate through the digital landscape, there's one platform that stands tall amidst a sea of web development options: WordPress. Whether you're a start-up, a charity, or a corporate giant, WordPress offers unparalleled benefits that can take your online presence to a whole new level.
In this post, we do a super-quick dive into understanding the benefits of WordPress for your business or charity website.
Unleashing the Power of WordPress for Business and Charity Websites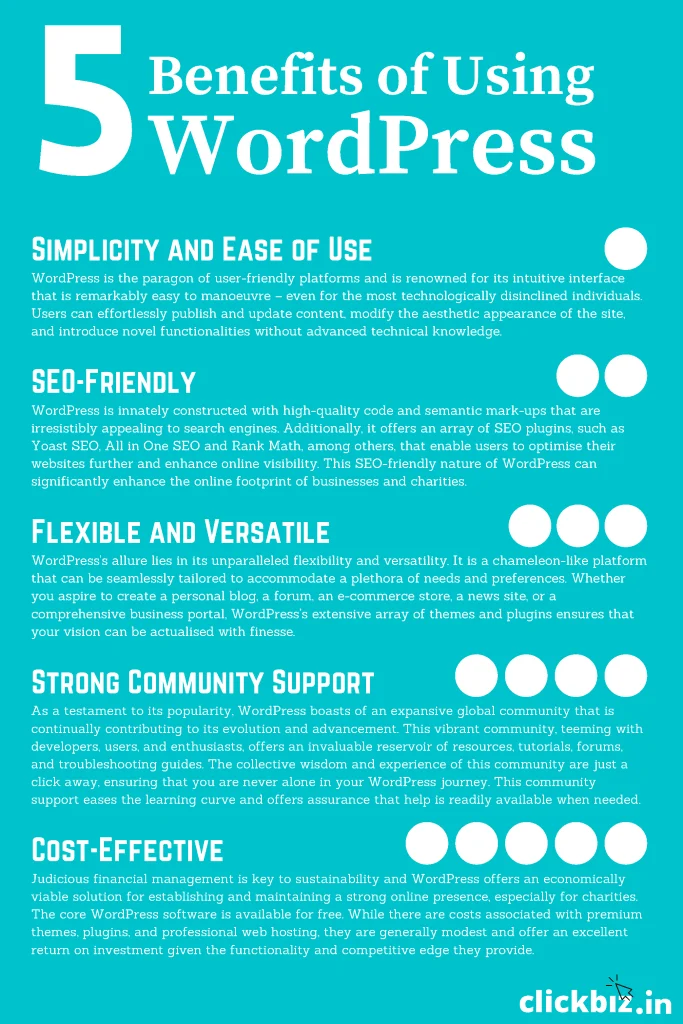 1. Simplicity and Ease of Use
In our ever-evolving digital sphere, the value of simplicity cannot be underestimated. WordPress is the paragon of user-friendly platforms and is renowned for its intuitive interface that is remarkably easy to manoeuvre – even for the most technologically disinclined individuals. Users can effortlessly publish and update content, modify the aesthetic appearance of the site, and introduce novel functionalities without necessitating intricate technical knowledge.
WordPress judiciously balances simplicity with sophistication, making it an optimal choice for individuals and organisations desiring an easy-to-use platform that does not compromise on the richness of features.
2. SEO-Friendly
Capitalising on the power of Search Engine Optimisation (SEO) is pivotal in today's hyper-competitive digital landscape. WordPress, in its impeccable foresight, is innately constructed with high-quality code and semantic markups that are irresistibly appealing to search engines. Additionally, it offers an array of SEO plugins, such as Yoast SEO, All in One SEO and Rank Math, among others, that enable users to optimise their websites further and enhance visibility in search engine results. This SEO-friendly nature of WordPress can significantly enhance the online footprint of businesses and charities, driving better brand awareness and customer engagement.
3. Flexible and Versatile
The quintessence of WordPress's allure lies in its unparalleled flexibility and versatility. It is a chameleon-like platform that can be seamlessly tailored to accommodate a plethora of needs and preferences. Whether you aspire to create a personal blog, a forum, an e-commerce store, a news site, or a comprehensive business portal, WordPress's extensive array of themes and plugins ensures that your vision can be actualised with finesse. Moreover, its open-source nature allows you to modify and enhance the platform to suit your unique requirements, making it a truly flexible and versatile solution for all your digital needs.
4. Strong Community Support
As a testament to its popularity, WordPress boasts of an expansive global community that is continually contributing to its evolution and advancement. This vibrant community, teeming with developers, users, and enthusiasts, offers an invaluable reservoir of resources, tutorials, forums, and troubleshooting guides. The collective wisdom and experience of this community are just a click away, ensuring that you are never alone in your WordPress journey. This robust community support significantly eases the learning curve and offers assurance that help is readily available when needed.
5. Cost-Effective
In an era where judicious financial management is key to sustainability, WordPress offers an economically viable solution for establishing and maintaining a strong online presence, especially for charities. The core WordPress software is available for free. While there are costs associated with premium themes, plugins, and professional web hosting, they are generally modest and offer an excellent return on investment given the functionality and competitive edge they provide. Furthermore, the cost-effectiveness of WordPress is enhanced by the fact that it negates the need for expensive web developers, given its user-friendly design and strong community support.
To Sum it Up
In sum, WordPress offers a harmonious amalgamation of simplicity, SEO-friendliness, flexibility, community support, and cost-effectiveness. It is a robust, intuitive, and versatile platform that has the potential to catalyse the digital success of businesses and charities alike. With its user-centric design and rich functionality, WordPress truly embodies the ethos of 'digital empowerment for all'. Email us at [email protected] if you want us to help you with your digital presence.